At 16 km from Bolsena lies Orvieto where Northern Lazio borders on Umbria.
I think Orvieto is one of the most beautiful cities in Umbria.
It is August 9, 2019 and early this morning I was in Orvieto with my red shoes. The last time I visited Orvieto was in June when I walked from Orvieto to Rome with my guests. In 650,000 steps a part of and over the old pilgrimage route, the Via Francigena to Rome. "La passegata dell amore"
Being on the road early, especially in the warm summer months, is a pleasure.
You see, hear, taste and smell a city wake up. Without the throngs of tourists who will take the square in front of the cathedral a few hours later. Enjoying the beauty of the façade in particular with its colorful mosaic, frescoes and sculptures in the summer sun.
When I see the porter open the large doors of the cathedral, I decide to buy a ticket to view the cathedral from the inside. The last time I went inside was already 5 years ago.
Two nuns are still busy cleaning the interior of the cathedral.
Who was Luca Signorelli.
I enjoy all the beautiful frescoes by Luca Signorelli.
In 1497, Luca Signorelli went to work for free housing, bread and over a thousand liters of wine a year in the new chapel of Orvieto Cathedral.
Unbelievable when you consider that his work is now possibly Orvieto's biggest tourist attraction.
Proud tough muscular naked men and women are painted and can now be admired in the Antichrist, the Last Judgment, the Chosen, the Damned and the Resurrection.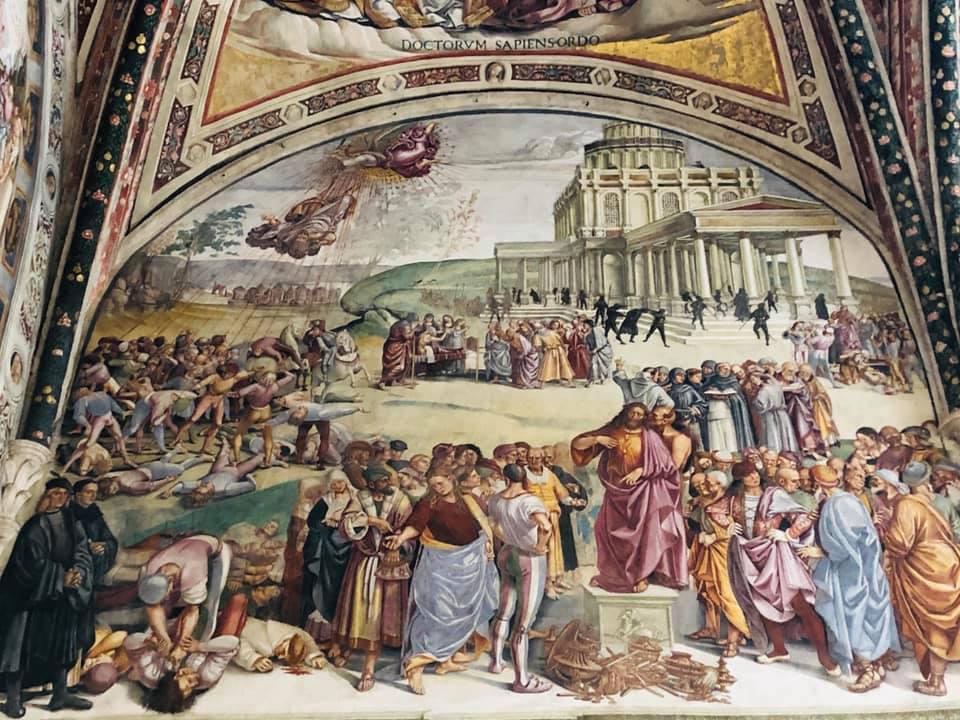 In the first photo you see Signorelli's ex girlfriend on the back of the devil. Luca's revenge after she dumped him.
If you are in the Orvieto area, take the time to admire this beautiful cathedral both inside and out.
"Volg de Rode Schoentjes"
Volg de Rode Schoentjes specializes in special experience and discover holidays for singles in central Italy. Far away from mass tourism, I organize and create a base in which you can discover and experience a real Italian holiday together with other singles. You can also go to Volg de Rode Schoentjes to rent a vacation home in Bolsena or the villages along Lake Bolsena. These houses belong to the local population. In the summer months you can participate in the day excursions of Volg de Rode Schoentjes. Curious who you are going on holiday with? I would like to introduce myself.